To both the providers and participants of clinical research studies, the idea of people coming into a treatment center is much less realistic than it was pre-pandemic. This has given rise to more remote research techniques, which in turn has reinvigorated the popularity of electronic informed consent, (i.e., e-Consent forms).
Already a key component in medical research, the digital consent process refers to sophisticated software programs and standards. These programs and standards give potential study participants easy access to interactive tools where they can provide informed consent, virtually.
This virtual informed consent is key in today's virtual clinical research environment.
The US Food and Drug Administration (FDA) sums it up this way:
"Electronic informed consent refers to using electronic systems and processes that may employ multiple electronic media, including text, graphics, audio, video, podcasts, passive and interactive Web sites, biological recognition devices, and card readers, to convey information related to the study and to obtain and document informed consent."
e-Consent is not just about making it easier on the research team – it's driven by helping the participants understand what they're participating in.
e-Consent should provide numerous forms of interactions and customized options, which can improve knowledge acquisition and voluntary enrollment. These all must be done in accordance with international legal and ethical requirements.
To adhere to these standards, e-Consent forms must: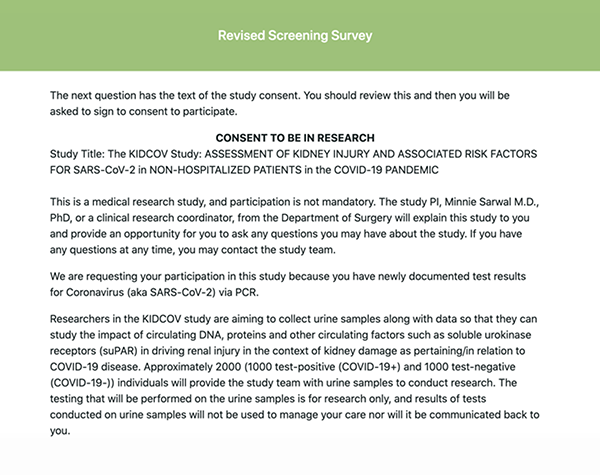 Be explained in an environment where the participant can take their time to understand it
Give the participants the opportunity to ask questions
Avoid coercion promises to the participant
Have very clear outlines of risks and communicate potential benefits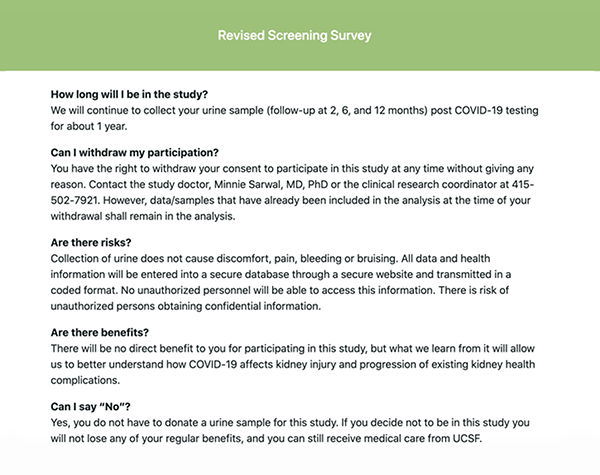 Allow the participant to terminate their involvement at any point in the study (this must be obvious and clear)
Give the participant the ability to opt-out via a third party
Not unduly influence vulnerable populations
Through the consent process, it's critical the user understands what they're reading. Upon completion, they are emailed a PDF of what they signed, which becomes the document of record.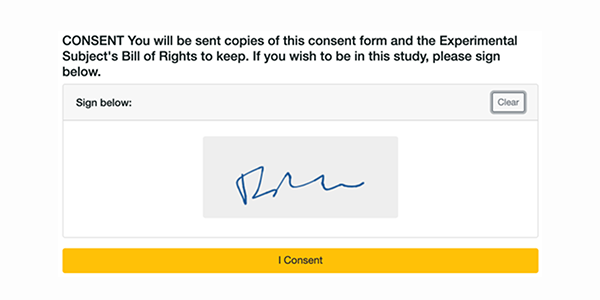 This helps the user retain a record of their consent.


Improving understanding through multimedia with your e-Consent forms
As you consider each of the above requirements in your study's electronic consent process, it's important to give highlights to the participant of what they really need to know.
Because potential study participants will be reviewing and consenting through an online format, using video explainers through the informed consent process can be a great user-friendly value-add.
These "extra" add-ons to the e-consent process can help clear up any potential confusion or gray areas with your study. Multimedia, such as videos or interactive diagrams help make it abundantly clear what participants are signing up for and what their rights are.


Making e-Consent easier and more intuitive with the right system
Super long. Incredibly complex. Needs attorney review. Written by the same people who draft indecipherable sales contracts. >> These are just some of the stigmas associated with e-Consent forms!
And in many cases, they're true. However, that's not always the case.
This raises concerns, particularly by the Institutional Review Board (IRB) that potential participants may just scroll to the bottom of an e-Consent form, click "agree," and sign.
QuesGen understands the stakes involved with clinical study informed electronic consent, and we've made our e-Consent process not only incredibly digestible but completely customizable to the unique needs of any clinical research study.
To learn more about implementing a compliant electronic informed consent process with your clinical study, schedule a free consultation today.