If you're using an Electronic Data Capture (EDC) system, your brain-health or related clinical research should be easy. But selecting the right EDC system isn't easy. In this article, we'll break down the different EDC systems, the benefits of the best EDC systems, and how the use of electronic data capture tools can completely transform your clinical research.
What is an EDC System?
An Electronic Data Capture (EDC) system is software that stores patient data collected in clinical trials. Designed to streamline and simplify data collection by eliminating the traditional paper-based transcription and data entry, there's really no reason not to use an EDC system these days.

When academic researchers and investigators conduct a clinical study, they use Case Report Forms (CRFs) to record patient information. Before EDC systems, CRFs were all paper based…collected at the end of the study…and sent to the sponsor for manual transfer into an analysis tool.
That's a lot of work, a lot of paper, and a lot more margin for error.
Today, more and more medical academics are taking advantage of EDC systems for clinical research, and it's easy to understand why. For both simple and complex trials, and for all phases of research, EDC systems drastically reduce the once laborious process while significantly improving the quality of data.
Benefits of Using an EDC System
Whether you're unfamiliar with EDC systems, have had bad luck finding and implementing the right one, or are still on the fence whether or not EDC software can really benefit your clinical research, you likely have a few important questions...
My traumatic brain injury (TBI) research must be HIPPA (Health Care Portability and Accountability Act) compliant, is an EDC system secure?
Absolutely. Data security is essential in order to receive NIH funding, and EDC systems are protected, backed up, and extremely particular with user permissions. Only certain users can update files and access data, establishing clear boundaries with the scope of work.
The best cloud-based EDC systems allow for both easy and secure sharing of information while exceeding all global data collection regulations. From ICH/GCP and 21 CFR to GDPR and HIPPA, using an EDC system for clinical research gives you confidence and peace of mind that your data is compliant.
We have a relational database and our studies can be complex. Does an EDC system provide consistent and accurate data?
Yes. EDC systems utilize standard data collection tools that eliminate inconsistencies and other factors that could compromise the quality of your data. Adding dependencies and validations to your EDC system forms will greatly improve the quality of your data. And by removing the possibility of inaccurate and illogical value input, legible entries and automatic calculations result in much cleaner data.
In order to achieve the best results, though, you'll need to start by implementing a solid data collection plan.
Will you be conducting a single or multicenter study?
Is it longitudinal with different time points?
Be sure to carefully consider the flow of your data from the outset so the database setup includes as many interconnected checks on the data as possible.
For multicenter TBI studies especially, consistency is the most important part of conducting your research. It's imperative that your EDC platform can support the complexity of your data.
Timing is everything with my clinical research studies. Are EDC systems efficient?
With real-time access to data and less time spent on manual entry and query management, EDC systems save you a lot of time. After the initial setup and training phase, the ability to quickly and easily access your data becomes second nature.
For multisite studies, having an EDC system up and running can allow you to rapidly expand if meeting your time-sensitive enrollment goals becomes a challenge.
I need to know how much to budget in my TBI research grant proposal. What do EDC systems cost?
Well, that all depends. EDC systems cover a wide range of costs—from free to extremely expensive.
The free/low-cost versions might lack the ability to accommodate more complex studies with nuanced data structures. The expensive versions are geared more toward enterprise clients and price many academic data managers and PIs out of the picture. For some, the sweet spot can be found with custom commercial solutions that can both handle unique multisite studies and start enrolling your study participants within days.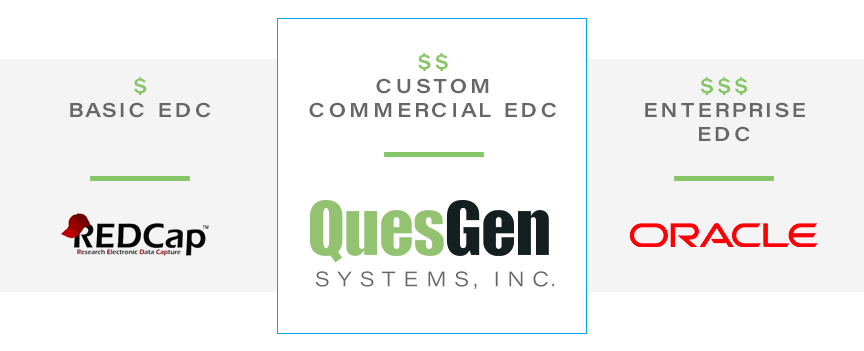 Regardless of price, most EDC system users agree that while it may seem like a large investment at first, the future returns and cost-savings are exponential.
What to Look for When Choosing an EDC System
TBI researchers need a flexible, customizable, HIPAA-compliant database that's not going to cost an arm and a leg.
That may sound too good to be true when selecting the right EDC system for your clinical research, but many such systems exist!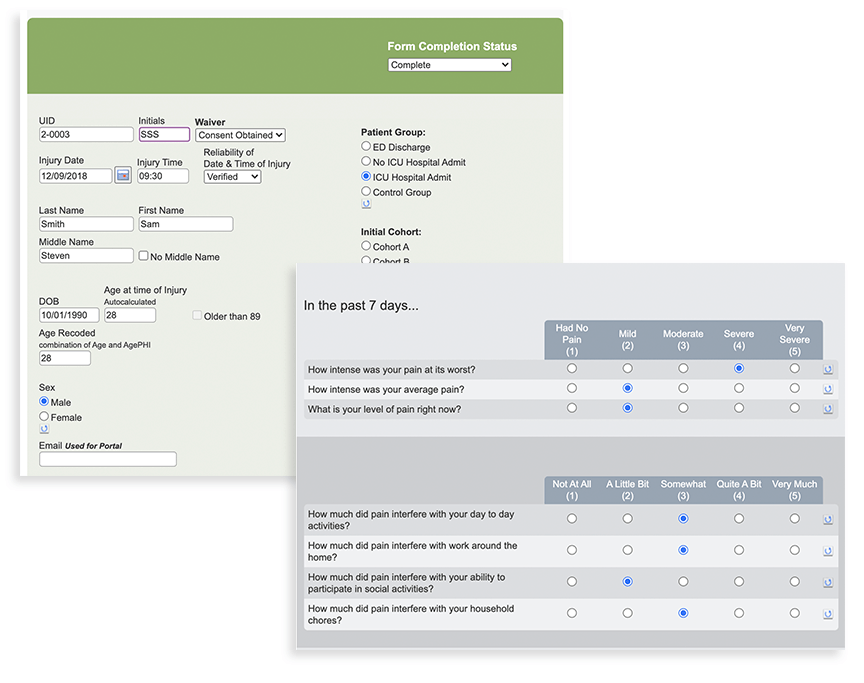 Some common EDC system components to look for include:
eCRF designer so you can promote data standards and won't need to recreate commonly used forms.
Validated Data entry so that the proper edits and validations can be performed as data is entered into the system.
Centralized Data Curation and Query Management so that you can consistently manage quality control and data collection across all of your sites.
Data export so you can quickly and easily access, export, and extract patient data with metrics that provide progress insights.
When you're ready to implement an EDC system, start by identifying a platform that assures high-quality and reliable collection, integration, and availability of study data.
QuesGen can build and set up your study quickly and effortlessly with an easy-to-use, flexible, and adaptable data collection tool. The best part? It's designed for users (programming not necessary) to rapidly build a database to include eCRFs and simple study logic.
So, what are you waiting for? Start accelerating your research today!